Ring out of a plate, size L/S
Every piece in the Ceramic Jewellery Collection is unique. I go to antique shops and flea markets to find old or antique earthenware plates to use for my jewellery. They are usually singular plates, but occasionally I find another one.
I drill discs out of these plates to create pieces of jewellery. Each piece in this collection is made following the same process. The beads all have a different decoration, because they are cut out of the plate's overall pattern. The beads also have different shapes, depending on which part of the plate it was drilled from. I use 3 different drill sizes that make S, M, and L beads. These give me many possibilities, but I obviously have my favourite combinations.
The composition of the ring is determined by the original position of the beads on the plate. However, there are many different ways to mount and place the beads on the ring.
The rings made of ceramic beads and silver. Each ring goes along with the original ceramic object it is made of.
bead size XL: ca. Ø 18 mm
bead size L: ca. Ø 16 mm
bead size M: ca. Ø 12,5 mm
bead size S: ca. Ø 11 mm
For inquiries, do get in touch!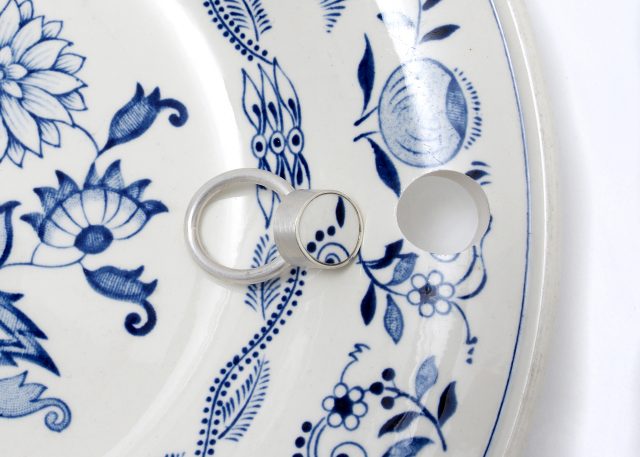 ---
Ring out of a plate, size M
---
---
Ring out of a Plate, size XL
---
---
Ring out of a Plate, size L/L
---
---
Ring out of a plate, size S/XL
---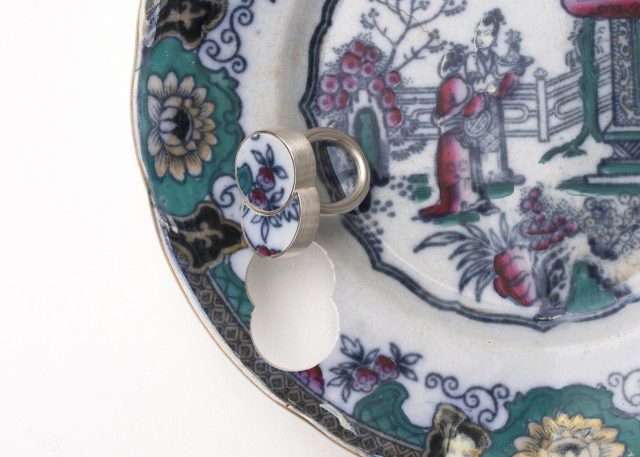 ---
One-and-a-half Ring out of a Plate, size XL
---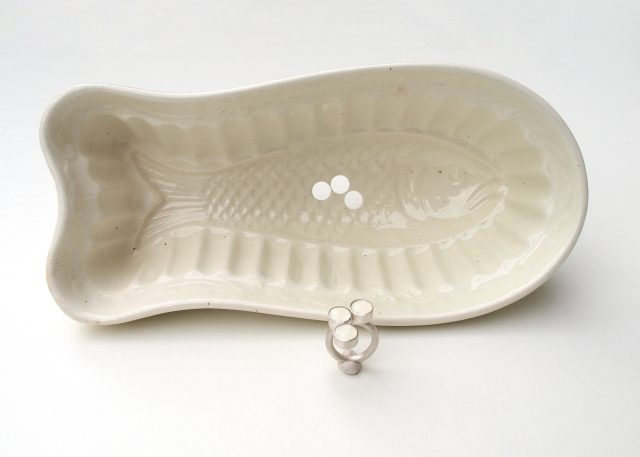 ---
'Fishegg Ring', size S/S/S