---
For me, the past period of the pandemic has been a time of radical retreat in private spheres. As social contacts were reduced to the bare minimum and almost all external deadlines cancelled, life slowed down.
Nevertheless, these last one-and-a-half year revealed itself in contrasting phases.
In the cold winter season, I have found myself juggling between home-schooling and my own world of thoughts, being pulled away from my beloved studio life. Private and working areas intermingled at the dining table.
Summertime on the other hand has drawn me outside absorbing nature to the full hart.
I've amused myself with needle work, with beads and metal threads borrowed from gold embroidery. It has allowed me to stay close to my favourite materials and the microcosmos of a jeweller.
These time-consuming techniques are comforting, they suit the situation I am in.
Images from my direct everyday reality emerge: the house, the garden, the walks in nature, physical experiences, the comfort of pillows and carpets. Rhythms, patterns and structures that accumulate time resonate in my pieces.
Pastime slowly gave birth to a new jewellery collection.
Gésine Hackenberg, 2021
Materials: Purl wire, pearl purl wire, (rocaille) beads, cotton thread, textile, silver, remanium
---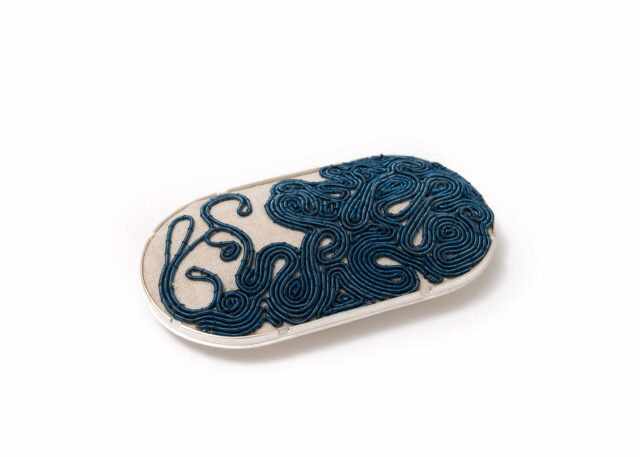 ---
Blue Doodle, 2021
9,2 x 5,2 x h 1,5 cm
---

---
Golden Doodle and Purple Dot, 2021
5,2 x 4, 5 x h 1,3 cm and 2,2 x 2,2 x h 1,2 cm
---

---
Light Pink Line, 2021
2 x 14,5 x h 1,5 cm
---

---
Crown, 2021
7,5 x 7,5 x h 1,2 cm
---

---
Star Window, 2021
5,5 x 9,5 x h 1,7 cm
---

---
Blue Cube Diamond, 2020
ca 14 x 8 x h 1,5 cm
---

---
Pink Grid Diamond, 2020
ca 10,5 x 7 x h 2,3 cm
---

---
Green Pavement, 2021
5,2 x 9,2 x h 1,2 cm
---

---
Goldfish, 2021
9,8 x 5,3 x h 1,2 cm
---